As we come to the end of another successful year at Singing Strong, I would like to thank all the students who have worked so hard this year on developing their musical skills.
There has been excellent progress made and students can be very proud of their achievements.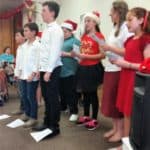 A big thank you to those students who participated in the concerts at O'Mara House and Yallambie Village in the last couple of weeks.  The residents really enjoyed the performances and really appreciated you taking the time to perform for them. I would like to think we could make this more regular.  It is a wonderful way to give back to the community as well as work on performance skills.
I have completed a newsletter that covers a lot of the events that Singing Strong has been involved in this year. Please click the link below to read all about what has been going on in 2016.
Singing Strong Newsletter end of year 2016
You can also read more details about what successes students have had this year by going to the achievements page.