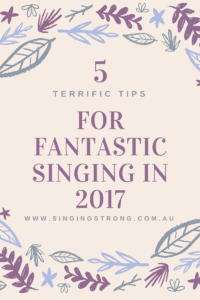 Hi there!  Only a couple more days to 2017.
Eeeek! I cannot believe how fast this last month has flown and we are almost at the beginning of a new year.
I hope you have all had an absolutely fabulous 2016 and are excited about 2017. I have been doing a lot of thinking recently and am trying to get planned for next year.  I am notorious for just floating along and when I have a great idea I just do it. However this can be a very dangerous way to live as there is always a great rush to get it done, I'm not planned and I often don't do things as well as I would like. Being prepared and organized helps things to flow better and a lot more can be achieved.
So my first terrific tip is:
1. Plan ahead.
Start thinking ahead now. What would you like to achieve vocally in 2017?  Analyze what it is (make sure you are specific) that you would like to improve/achieve next year.  Write it down, plan it out.  Do you need to work on your breathing?  Would you like to extend your vocal range? By how much? When? What will you need to do to fulfill your dream?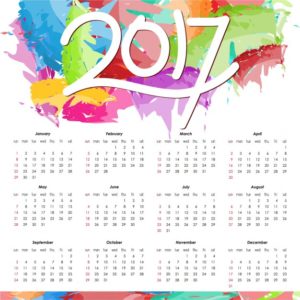 2. Organize a practice time you can stick to every day.
Part of the reason we don't have the success we would like is that we fail to practice.  There is no getting around this, if you want to succeed you have to put in the work.  Work out a time that you able to set aside each day to work on your skills. Then stick to it.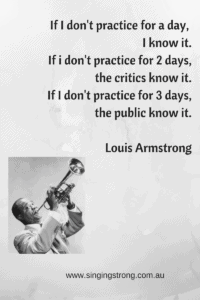 For some more tips and ideas on better singing practice, click on the link below.
click here for tips on singing practice
3.  Have singing lessons.
This is important thing to do.  There are many articles and videos on line about how to sing better, but none of these offer something very important. That is feedback. It is vital to have a mentor that can work with you to analyze and then work with you to improve your singing voice.  I know when working with students that I am constantly asking questions and guiding them to hear what a good voice should sound like, tweaking and adjusting constantly. If you don't have any feedback, how do you know if what you are doing is correct? To have lessons one on one with Mary at Singing Strong  click here to register.
4. Listen to lots of music
Make sure you are always listening to good music.  Think about the artists you like and listen to them.  LOTS! There are plenty of ways to listen to music.  You tube, Pandora and spotify are just a couple of examples of places you can listen to your favourite music.  Take some time to analyze what your artists are doing that makes them a good singer.
This is my favourite song at the moment and a song I definitely want to learn.
Think about what styles of music you like and then:
5. Choose repertoire
Decide the songs you would like to learn in 2017.  Think carefully about the style of music and level of difficulty.  Aim to find at least 5 songs you could work on. Plan out the year as to which month each song will be learned by.  Remember it takes time for the body to get used to how you sing a song.  I always say allow 6 months for a song to feel right.
Do these 5 things and you are well on your way to singing success in 2017.
Want to get 2017 off to a great start?
Singing Strong is offering a Summer Singing Intensive from Monday 9th January to Friday 13th January 2017.
Five days one on one with Mary for an hour each day.  You can do this with Mary in her Traralgon Studio or on line.
There are only a few places left.
Work on vocal technique, performance skills as well as learn a song in 5 days!