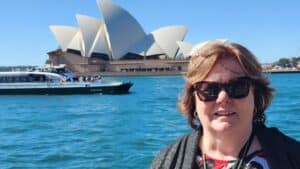 Hi it's Mary from Singing Strong. I had a lovely excursion to Sydney a couple of weekends ago for my daughter's 22nd birthday. We had the most wonderful time in Sydney I haven't been there for, I'm trying to think, it's been over 20 years, so I'm starting to give away my age a little bit here, but that's okay.  We went to Sydney and we got to walk around circular Quay. We walked around the Opera House and walked around to Sydney Harbor Bridge. This was amazing. I always love to watch the fireworks on New Years Eve from Sydney, so it was lovely to actually walk around there. We also went to Bondi Beach. My daughter is a Bondi Rescue fan and we went there and had a look at all of the area of Bondi Beach. We also went to Manly on the Sunday which was the most beautiful weather but incredibly busy, Sydney is just exploding with people, but it was really lovely, we had a great day.
We went to the Opera House on the Saturday night to see Miss Saigon. Miss Saigon has been around since the 1980s, but I had never seen it for whatever reason I didn't manage to get to see it. It's composed by the same people who composed Les Miserables. It is very different but musically as exciting as Les Miserable. If you haven't seen Miss Saigon I would highly recommend it. Now it was very confronting I have to say, but the music was amazing. The young girl who played the role of Kim is literally 18 years old and has been plucked out of the obscurity and she was just incredible.  The thing that I really valued and got so much enjoyment from even though it's an incredibly sad story was the calibre of the singing and I have to say well done Opera Australia for putting this on. The singing was just world class, and I can say that honestly because I have been to a few different places around the world. The technicians are to be congratulated on the sound quality, there was so much going on in this show but it was just fantastic. The singing was incredible.
Now I know a lot of people are not so much music theatre fans and prefer contemporary pop music and that sort of thing and there's nothing wrong with that, there's some great singing.  I'm going to be talking about that in the future, how pop singing is just amazing, but this night, I don't know whether it was just the thrill of being at the Opera House. It was such high quality singing, so well-rehearsed,  such strong powerful in control voices that could sing a huge dynamic range who were singing, this incredibly low music and then she has this beautiful high soprano coming through on some of the songs, it was just amazing.  The show is coming to an end in Sydney, but it's coming to Melbourne so if you are a person who lives in Victoria and you haven't seen it I would highly recommended it.  It is not for children, it's like I said incredibly confronting. We just need to be careful with what we are exposing our children to. If you haven't seen Miss Saigon you must go.  I'm not going to do any spoilers, not going to tell you that the actual show itself because there's some incredible things that happened on the stage that just flew my mind.
Well done to the production team and everyone who was involved. I've seen a lot of shows in the last 12 months now that we're out of covid. I'm trying to go and see everything and I have to say out of all the shows that I've seen recently that is like number one at the top, can't get any better, at the moment I to find a show that is a higher level vocally. It just blew my mind. if you are in Victoria and have an opportunity it starts on 29th October. It's not that far away, please go and see it, you will absolutely love it. As I said it is very confronting, very sad, but just an amazing show. Please go and see it. You can watch it online, but I just don't think you get the same experience.  There's something about live theatre that you get a totally different experience.
Well done everyone at Opera Australia, I loved it.