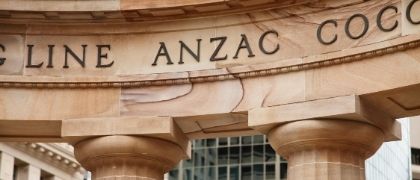 ANZAC DAY 2021
I had the joy and honour of singing at three Anzac Day Services on Sunday. It has been a long time since I have sung in front of an audience and it was wonderful to be able to sing for people again. There were good crowds at all the services and I had a lovely response, with many saying how much they enjoyed my singing.  I believe it is such an honour to be able to sing at an Anzac Day ceremony and to be able to sing at three was very special.
The first ceremony was actually held at the local cemetery.  In my town we have quite a beautiful cemetery, with beautiful gardens, a recently renovated band rotunda and a substantial newly built memorial in memory of returned service men and women who are buried at the cemetery. This year was the first year since 1946 that an ANZAC day ceremony was held at the cemetery. This is because the town cenotaph was built after the second world war and the yearly ceremonies are now held there. 
THE LAST POST
One thing I was able to observe in detail was the bugler at each ceremony. There was a different person at each ceremony and they all had a very different experience performing. One of the buglers was a mature person who had been performing for many years and was very experienced at performing. One was still quite a young person but had played for many Anzac Day ceremonies, even though they were early on in their performing career. The third was a young person, had been playing for a few years, but had not had experience playing to a crowd. It was interesting to note that they had all obviously practiced for the event and they could all play the last post, but they had very different experiences. None of them played it perfectly, but the mature person and the very young person continued on in spite of any little slips they made. 
The person who had never performed for an audience before did get through the performance, however I could see very clearly that they were extremely nervous and tension had built up in their body, and they simply could not get enough air in to support the notes fully.  They are to congratulated on their performance, performing for the first time and in spite of being nervous, they did get through the last post and overall it was played correctly. It was sad to see their response afterwards. I didn't get a chance to speak to them, but if I could have, I would have told them how well they played for a first performance.  
PERFORMANCES ARE OPPORTUNITIES TO LEARN
We can be so harsh on ourselves for performances that don't go as well as we would like. Especially when we are first beginning to perform for an audience. As I said previously, none of the performances were perfect, but the people who had performed previously did not worry too much about perfection, shrugged off a missed note and kept playing.  It is so important that we practice performing, getting used to being in the stressful situation of standing in front of an audience and playing or singing. I have been performing for many years now, and although I can still get nervous, I have performed enough times to understand how my body works and I can prepare and be aware of what I am doing, relaxing and breathing well for good breath support. That does not mean my performances are always perfect.  Usually I go off stage thinking about what I can do better, but generally I am pretty happy with what I have done. The audience wants you to do well, and are for the most part very supportive, so we shouldn't be afraid to perform for others. Perfection is hard to achieve, but we are often hard on ourselves when we don't achieve it.
So get out there and perform.  A LOT!